The History of the Watermelon Party
My dear mother, Marianne Grandstaff, is responsible for starting the watermelon obsession over 40 years ago. She absolutely loved the vibrant colors and the fun designs of watermelon things. Her entire kitchen was adorned with watermelons — rugs, towels, plates, glasses, pictures, fun knickknacks, etc.
When she was diagnosed with Alzheimer's disease, we moved her and her things from Lincoln, Nebraska to Denver, Colorado to live with us, including the watermelon collection. I always thought it would be fun to have a watermelon theme party, in honor of my mother who always loved parties and entertaining. It took five years to make the first party happen, but we finally did it! My mom was able to attend the first two parties before she passed away. The rest is history!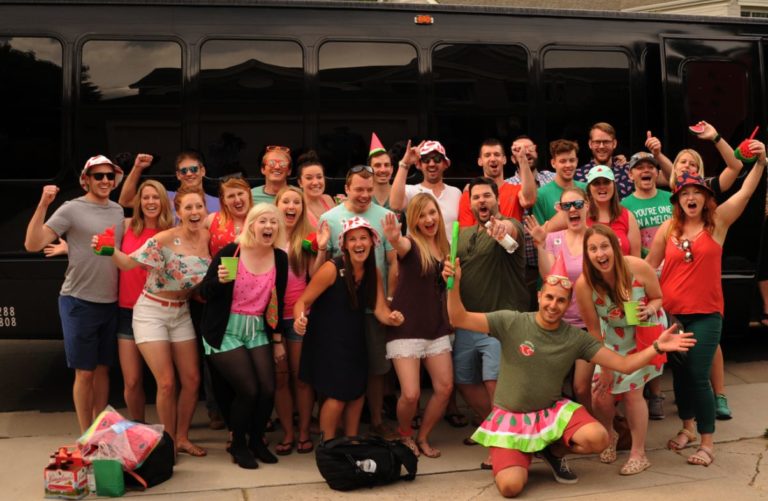 We always associate watermelon with summer and think of fun times plowing into a big, cold, juicy slab of that tasty, refreshing fruit at summer parties, barbecues and family functions. Besides reminding us of great childhood memories, watermelon reminds us of fun!
So, What about a "watermelon themed" party?
We have successfully held a watermelon themed party in August every year to celebrate the end of summer. During the winter months we get emails from friends asking for the date of the next year's party.
New invitees always ask: "What exactly is a Watermelon Party?"
Our answer is always, "You have to experience it to believe it!"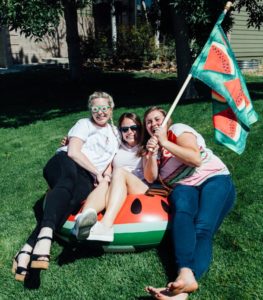 Fun Facts About Watermelon
Did you know?
July is National Watermelon Month
August 3rd is National Watermelon Day
Watermelon is classified as both a fruit and a vegetable
There are  over 1,200 varieties of watermelon
Watermelons are 92-percent water
According to the Guinness Book of World Records, the heaviest watermelon ever recorded was over 350 pounds!
The first watermelon harvest on record was in Egypt nearly 5,000 years ago
Florida, Texas, California, Georgia and Arizona lead the United States in watermelon production